Melt & Pour Soap Base - Sustainable Palm (SP SG)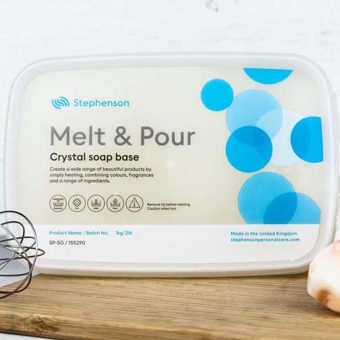 £5.99 inc.VAT
£5.99
exc. VAT
SKU:

S19516
Common Name
Crystal SP SG (Sustainable Palm) Melt & Pour
Transparency      Foaming      Sulfates      Parabens      Glycerine Content
      PALE YELLOW                 GREAT                    NO                        NO                                 HIGH
INCI List
Glycerin 25-50%**
Aqua 25-50%
Sodium Palmate 10-25%*
Sorbitol 5-10%
Sodium Palm Kernelate  5-10%
Cocamidopropyl Betaine 1-5%
Sodium Chloride 1-5%
Citric Acid 0.1-0.5%
Trisodium Sulfosuccinate 0.1-0.5%
Pentasodium Pentetate  <0.1%
Tetrasodium EDTA  <0.1%
*Made with 100% RSPO certified segregated sustainable Palm Oil and Palm Kernel Oil
**Derived from the Palm Oil and Palm Kernel Oil, during the soap making Process.
Origin
Manufactured by Stephensons in the U.K.
Qualities
Product Benefits:-
No Sulfates, MPG or Parabens. Vegetable based melt and pour soap base. Made using 100% RSPO Certified Segregated Sustainable palm & palm kernel oils. Used for the manufacture of translucent and opaque Certified RSPO soap bars.
Related Products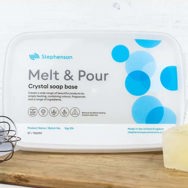 Melt & Pour Soap Base - Standard Clear
Read more
£5.50 inc.VAT
£5.50 exc. VAT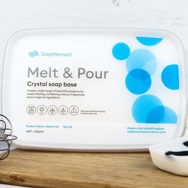 Melt & Pour Soap Base - Standard White
Read more
£5.50 inc.VAT
£5.50 exc. VAT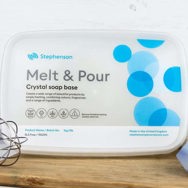 Melt & Pour Soap Base - Clear SLS Free
Read more
£5.50 inc.VAT
£5.50 exc. VAT