Melt & Pour Soap Base - Goat's Milk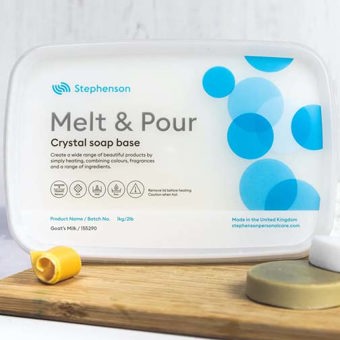 £7.50 inc.VAT
£7.50
exc. VAT
SKU:

S19522
Common Name
Crystal Goat's Milk 
Transparency      Foaming      Sulfates      Parabens      Glycerine Content
       OPAQUE                     EXCELLENT               YES                        NO                            VERY HIGH
INCI List
Aqua 25-50%
Glycerin 10-25%
Sodium Stearate  10-25%
Sorbitol  10-25%
Sodium Laurate  5-10%
Goats Milk  5-10%
Propylene Glycol  1-5%
Sodium Laureth Sulfate  1-5%
Sodium Chloride  1-5%
Sodium Lauryl Sulfate  0.5-1%
Titanium Dioxide 0.1-0.5%
Stearic Acid 0.1-0.5%
Lauric Acid 0.1-0.5%
Pentasodium Pentetate  <0.1%
Tetrasodium EDTA  <0.1%
Production
Crystal Goats Milk Melt and Pour Soap Base os a Whitened 'Crystal' soap base made with a significant amount of goats milk, making it an excellent moisturiser.
Origin
Made in the U.K. by Stephenson
Characteristics
Product Benefits:- All vegetable-based, good foaming and good moisturising properties with a very high glycerine content, which provides a pleasant skin feel. Superior colour stability, even if kept at a high temperature for extended periods. A neutral odour that provides excellent fragrance lift. Suitable for slicing or moulding.
Benefits of Goats Milk - Goats milk is naturally high in vitamins and minerals and rich in butter fats which makes it the perfect moisturiser. A creamy smooth texture that is nourishing for the skin. Vitamin E, which is the skin's best friend, is found in abundance. There are no added colours or scents.
Related Products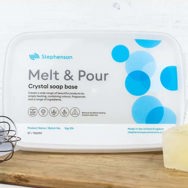 Melt & Pour Soap Base - Standard Clear
Read more
£5.50 inc.VAT
£5.50 exc. VAT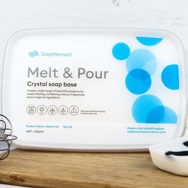 Melt & Pour Soap Base - Standard White
Read more
£5.50 inc.VAT
£5.50 exc. VAT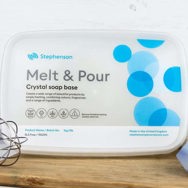 Melt & Pour Soap Base - Clear SLS Free
Read more
£5.50 inc.VAT
£5.50 exc. VAT