Melt & Pour Soap Base - African Black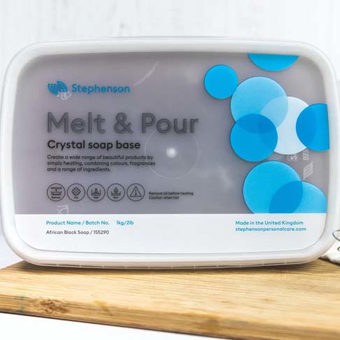 £5.50 inc.VAT
£5.50
exc. VAT
SKU:

S19519
Common Name
Crystal African Black Soap Base
Transparency      Foaming      Sulfates      Parabens      Glycerine Content
    TRANSPARENT              EXCELLENT                NO                         NO                             VERY HIGH
INCI List
Aqua 25-50%
Glycerin 10-25%
Sodium Stearate  10-25%
Sorbitol  10-25%
Sodium Laurate  5-10%
Sodium Oleate 5-10%
Butyrospermum Parkii Butter (Shea)* 1-5%
Sodium Cocoate*  1-5%
Sodium Palm Kernelate* 1-5%
Sodium Chloride  0.1-0.5%
Sodium Citrate 0.1-0.5%
Citric Acid 0.1-0.5%
* Products of saponifying African Black Soap
Production
Crystal African Black Soap base is a natural melt and pour soap base made using Raw African Black Soap from Ghana. Using raw shea butter, and coconut oil, this soap base is full of naturally derived minerals and antioxidants and is renowned for its natural cleansing properties.
Origin
Made in the U.K. by Stephenson
Characteristics
Crystal African Black Melt & Pour Soap is a vegetable-based, sulfate-free soap made using 5% natural African Black Soap. Designed to cleanse, hydrate, and refresh the skin, balance and revive complexions, and produce a smooth, creamy lather. While not identical to traditional African Black Soap, this is the only African Black melt & pour soap base currently on the market.
Related Products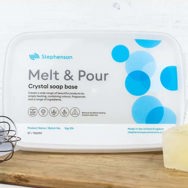 Melt & Pour Soap Base - Standard Clear
Read more
£5.50 inc.VAT
£5.50 exc. VAT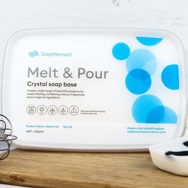 Melt & Pour Soap Base - Standard White
Read more
£5.50 inc.VAT
£5.50 exc. VAT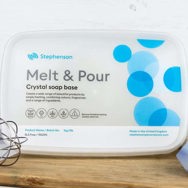 Melt & Pour Soap Base - Clear SLS Free
Read more
£5.50 inc.VAT
£5.50 exc. VAT