Melt & Pour Certified Organic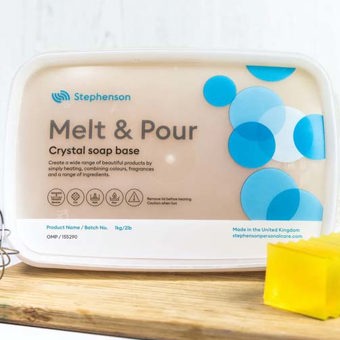 £9.59 inc.VAT
£7.99
exc. VAT
SKU:

S19678
Common Name
Crystal OMP / COSMOS and Soil Association Certified Organic Melt and Pour Soap Base.
Transparency      Foaming      Sulfates      Parabens      Glycerine Content
    TRANSLUCENT              FANTASTIC               NO                         NO                                  HIGH
INCI Breakdown
Aqua 25-50%
Glycerin * 25-50%
Sodium Palmate ** 10-25%
Sucrose *** 10-25%
Sodium Cocoate ** 5-10%
Decyl Glucoside 1-5%
Sodium Chloride 1-5%
Citric Acid 0.1-0.5%
Aloe Barbadensis Leaf Juice Powder *** 0.1-0.5%
_______________________________________________________________
* 15% of the glycerine is manufactured from certified organic oils
** Manufactured from certified organic oils
*** Certified organic material

CERTIFICATION STATUS
Soil Association:
71.68% Organic Ingredients as sold
69.83% Organic dry weight of total product
6.75% Non-Organic weight of total product
COSMOS:
66.14% Organic
26.82 % Org CPAI
55.16% CPAI
39.31% Organic PPAI
Production
Crystal OMP is a Vegetable derived soap base that is certified organic to both the Soil Association and COSMOS standards.
Origin
Made in the U.K. by Stephenson
Characteristics
Our vegetable-based, melt and pour soap base manufactured by Stephenson known as CRYSTAL OMP, is certified organic by the COSMOS and the Soil Association. Do not confuse with CRYSTAL NCO which is not a certified Organic product, but is made using Organic Oils only. The Soapmakers Store are certified to sell and label this product as COSMOS Certified Organic by the Soil Association, and we are therefore allowed to use the S.A. / COSMOS logo on our product.
Contains no MPG or surfactants that are not approved by the certifying body. Has the natural light brown colour of the organic oils and organic sugar. Good for moisturising from a high glycerine content and aloe vera which provides a pleasant skin feel.   pH 9.5-10.5. Be sure to look for the COSMOS Logo on the product.




Related Products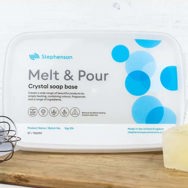 Melt & Pour Soap Base - Standard Clear
Read more
£6.60 inc.VAT
£5.50 exc. VAT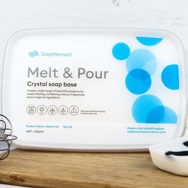 Melt & Pour Soap Base - Standard White
Read more
£6.60 inc.VAT
£5.50 exc. VAT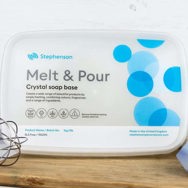 Melt & Pour Soap Base - Clear SLS Free
Read more
£6.60 inc.VAT
£5.50 exc. VAT