Melt & Pour Soap Base - Olive Oil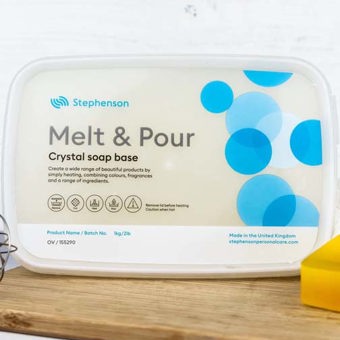 £4.50 inc.VAT
£4.50
exc. VAT
SKU:

S19517
Common Name
Crystal OV/Olive Oil
Transparency      Foaming      Sulfates      Parabens      Glycerine Content
    TRANSPARENT              EXCELLENT                YES                         NO                             VERY HIGH
INCI List
Aqua 25-50%
Glycerin 25-50%
Sodium Stearate 10-25%
Propylene Glycol 5-10%
Sorbitol 5-10%
Sodium Laurate 5-10%
Sodium Laureth Sulfate 5-10%
Sodium Olivate 1-5%
Sodium Lauryl Sulfate 1-5%
Sodium Chloride 1-5%
Stearic Acid 0.1-0.5%
Lauric Acid 0.1-0.5%
Pentasodium Pentetate <0.1%
Tetrasodium Etidronate <0.1%
Production
Crystal OV (Olive Oil) is a Vegetable-based, melt and pour soap base. In Crystal OV, 20% of the oils used are from Olive. Used for the manufacture of high-quality olive oil transparent soap bars.
Origin
Made in the U.K. by Stephenson
Characteristics
Made with pure virgin olive oil, this soap base has a rich lather with excellent moisturizing benefits. Crystal OV has a very slight green hue to it due to the natural olive oil added, all the while remaining highly translucent and very rich-looking. There are no artificial colours added.
All vegetable-based, excellent foaming properties & good for moisturising due to a very high glycerine content, providing a pleasant skin feel. It has superior colour stability even when kept at a high temperature for extended periods. Its neutral odour provides excellent fragrance lift.
Related Products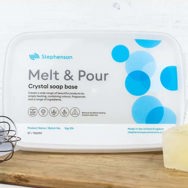 Melt & Pour Soap Base - Standard Clear
Read more
£5.50 inc.VAT
£5.50 exc. VAT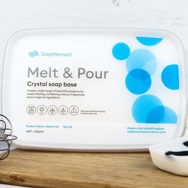 Melt & Pour Soap Base - Standard White
Read more
£5.50 inc.VAT
£5.50 exc. VAT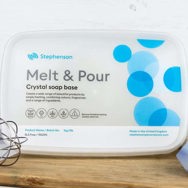 Melt & Pour Soap Base - Clear SLS Free
Read more
£5.50 inc.VAT
£5.50 exc. VAT