Pentylene Glycol Natural
£7.80 inc.VAT
£6.50
exc. VAT
SKU:

S16269
Common Name
Pentylene Glycol Natural
INCI Name
Pentylene Glycol
Extraction
A natural and environmentally sustainable direct replacement for the Petrochemical derived ingredient. Our Pentylene Glycol is sourced from Sugarcane and Corn by-product, so in effect, it is extracted from residual waste material.
Origin
France
Qualities
The unique multi-functionality of Pentylene Glycol is now available as a sustainable, eco-responsible and COSMOS approved ingredient which is also Palm Free and PEG free. This particular quality of Pentylene Glycol natural is produced from renewable vegetable by-product from food production (corncob, sugarcane bagasse which is the dried pulp residue left over after the juice has been extracted). It combines the performance of Pentylene Glycol with an enhanced emphasis on social responsibility and environmental protection.
Pentylene Glycol Natural represents a unique option for the support and advancement of green cosmetics. It also provides an opportunity to replace a formerly petroleum-based ingredient with a vegetable-derived environmentally friendly option.
Pentylene Glycol Natural is suitable for 'natural' cosmetic products.
Performance:
Pentylene Glycol Natural provides an overall pleasant, non-tacky and non-oily skin feel.
Pentylene Glycol Natural is a skin moisturiser with a long-lasting effect comparable to that of Glycerin.
Pentylene Glycol Natural can help to solubilize and stabilize lipophilic ingredients in aqueous solutions.
Pentylene Glycol Natural shows broad-spectrum antimicrobial activity against yeasts, moulds, and bacteria. It disturbs the integrity of microbial cell membranes, a mechanism of action that is unlikely to be affected by resistance. Being a non-ionic ingredient, the anti-microbial effect of Pentylene Glycol Natural is largely pH-independent.
Pentylene Glycol Natural can act as a standalone antimicrobial protection agent. In addition, it can be easily combined with other classical or non-classical antimicrobial agents, to boost their preservation effects.
Functions:
Emollient
Skin humectant
Solubiliser
Antimicrobial protection agent
Applications:
Skincare
Haircare
Make-up
Perfumes & Toiletries
Recommended use level 0.5 to 5.0 %. This is a PALM FREE product.
pH range 3.0 - 10.0
Related Products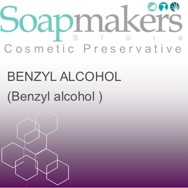 Benzyl Alcohol | Preservative
Read more
£4.20 inc.VAT
£3.50 exc. VAT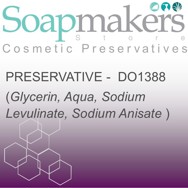 Preservative DO - Dermorganics 1388 100ml
Read more
£10.20 inc.VAT
£8.50 exc. VAT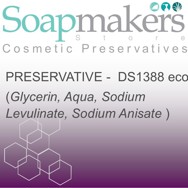 Preservative - DS1388 eco 250 Grams
Read more
£6.60 inc.VAT
£5.50 exc. VAT